Aerial Photography Photo Gallery: Bush flying training
Memorial Day weekend, 2014: Bush-flying course with Damian DelGaizo at Andover Flight Academy at Andover-Aeroflex (Andover, NJ) in the Delaware Water Gap region. I needed to already have a tailwheel endorsement in my logbook to enroll in this course.
Orville is the friendliest airport cat ever. He just loves people.
We started with some ground school work first.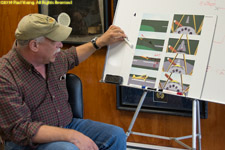 There is almost nothing stock about this bush plane. It carries the nameplate of a 1958 Super Cub. Other than that nameplate and possibly the frame of the front seat, it's a whole different animal, with an Alaska Airframes fuselage,a Borer climb prop, heavy-duty undercarriage, Dakota Cub slotted wings, extended flaps, a 180hp engine, and tundra tires.
We started out with taxiing and then a high-speed taxi down the paved runway so I could get a feel for this plane before starting to work.
Unusual, for me, at least, reason to do a go-around: BEAR on runway! You can bet I kept a sharp eye out when I came around to land again to see if this half-grown black bear was being followed by Mama Bear, but she wasn't around.
Cloudbursts or bright sun, this plane just loves to fly!
On takeoff, by the time you get to full throttle, which takes about five seconds, the tail is already up, and a couple of seconds later, the plane is ready to fly. It doesn't need much runway. With the wing slots and extended flaps, it can fly very slowly, with a stall speed under 25 mph, so it doesn't use much runway landing either.
We did most of the practice flying at nearby Trinca Airport, a grass strip.
I went back over Labor Day weekend, though I did not actually get much further in my training. I flew '3AC out to Mount Pocono, PA, and we rented a car from there.
A reminder that a BirdDog is officially a warbird, not just a common glider towplane: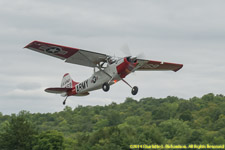 I didn't get very much farther in the bush training, but it wasn't for lack of effort.
I was glad to see that little Orville, his leg wound now healed, was still around. He's very airplane-savvy, for a cat.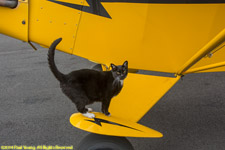 Back to Trinca for part of one lesson, but due to dicey weather most of my flying was at Andover-Aeroflex.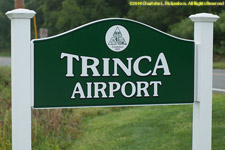 Flying home in '3AC, in IMC most of the way back: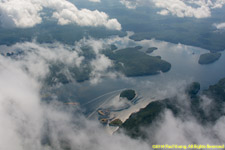 ---
©2014 Mermaid Underwater Photographic. All Rights Reserved.
Contact us at mermaid@underwater.org.
Last modified 6 Septmber 2014